UEBA: Detect Insider and Unknown Threats Quickly.
Accelerate detection and response to threats by spotting early signs of suspicious patterns and anomalous behavior with advanced User and Entity Behavior Analytics.
Get in-depth analysis on suspicious successful or failed logins, brute-force attacks, abnormal use of or first-time access to programs, transactions, and systems, plus unusual patterns in the overall activity of users.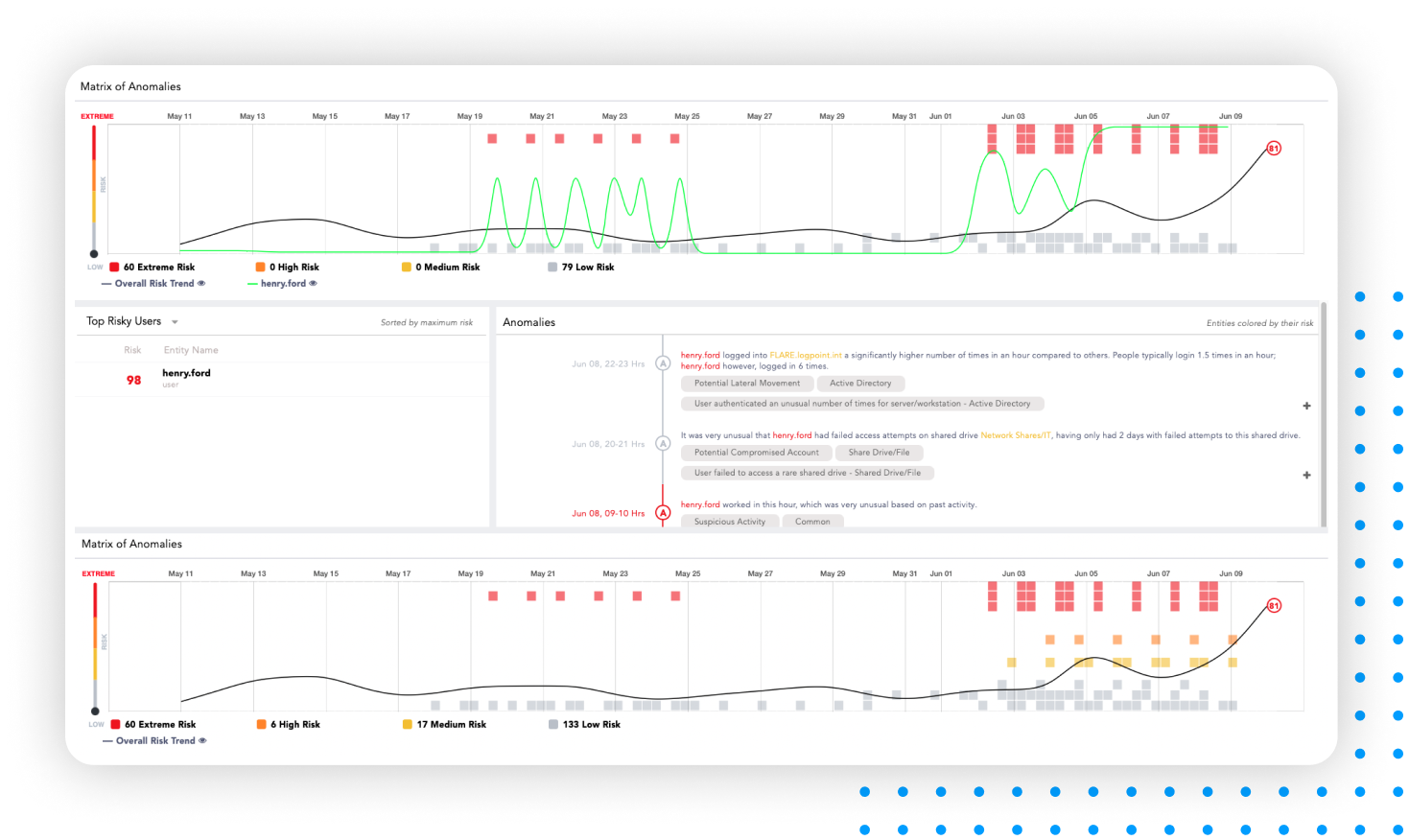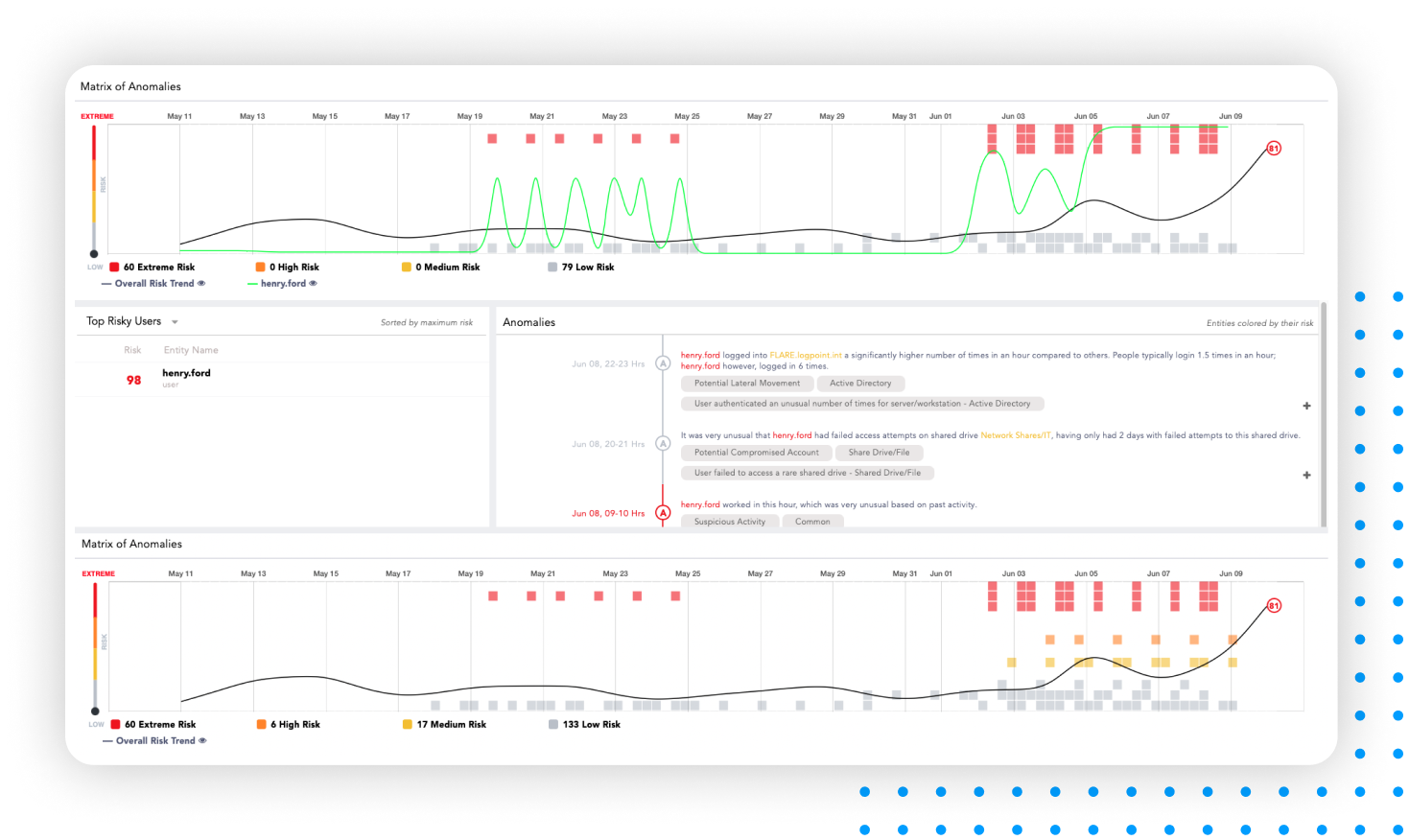 Identify Threat Patterns Early to
Effectively Mitigate Risks
Advanced attacks and pervasive threats to your organization often rely on compromised credentials or coercing users into performing actions that damage enterprise security. To identify such attacks, you need a robust solution that enables analysts to detect abnormal activity on your network.
Logpoint UEBA helps you enhance investigation of unusual behavioral patterns while reducing time spent on threat hunting. Mitigate risk, damage, and data loss by detecting advanced attacks early.
UEBA Works with Logpoint SIEM to Provide you with
Comprehensive Insights and Maximize the Value of your Data.
Enriching Your SIEM Data
Correlating the data from UEBA with SIEM events makes the original events more insightful than ever. The original log data can be enriched using the information from UEBA's machine learning technology, enabling you to discover suspicious user behavior. Incidents can be visualized using dashboards and search templates for faster threat hunting.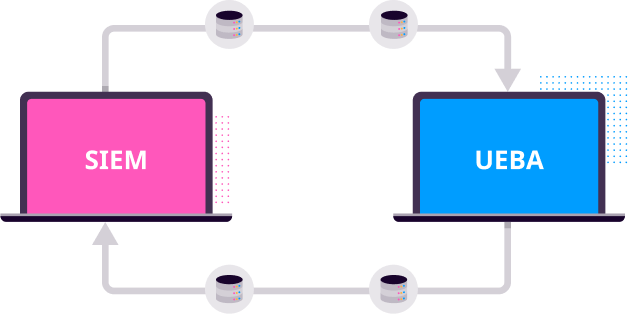 Faster and Efficient Investigation
Along with shorter detection times, SIEM + UEBA provides more actionable evidence during investigations and higher efficacy and accuracy of the alerts and incidents generated. Additionally, setting up automated responses with the assistance of SOAR improves efficiency so SOC teams can work smarter and focus on threats that matter.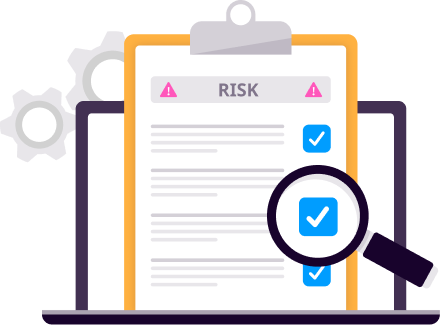 Spot Malicious Activities Early
UEBA builds baselines for normal behavior for every user, peer group, and entity in the network instead of applying predefined rules for standard behavior. By identifying deviations, UEBA detects anomalous patterns early, which are not necessarily immediately obvious and therefore often go unnoticed.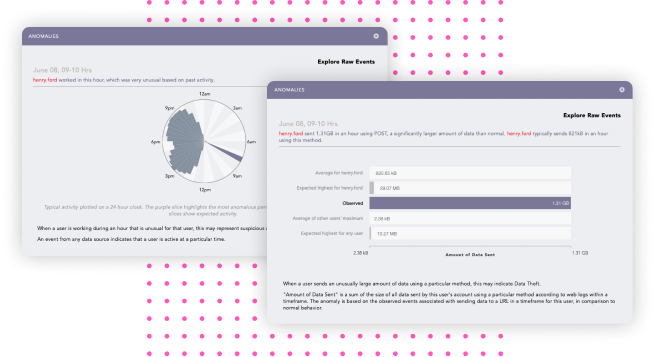 Ease prioritization
Logpoint UEBA calculates risk scores to help analysts navigate and prioritize high-fidelity incidents. The closer the score is to 100, the riskier the behavior.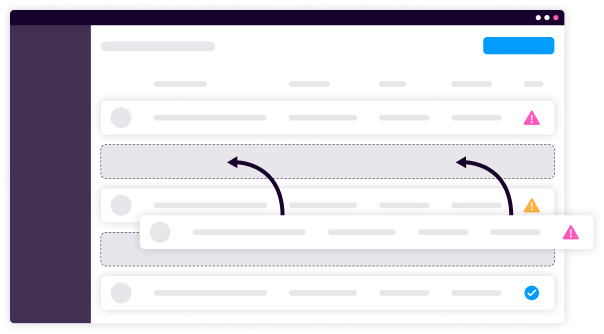 Insider Threats
Insider threats are usually detected by spotting behavior that deviates from the standard baseline.
Malicious Insiders
Probably the best known and most publicized category of insider threats. These are typically entities who take advantage of their privileged access to the organization's resources to inflict some form of harm on the organization.
Negligent Insiders
Entities who fail to practice security, follow regulations and standards, etc. Often, these are unknowing, for example, if the company's security policies have not been articulated.
Infiltrators 
Actors that are, in practice, outsiders, who intentionally gain insider access – often temporarily – to achieve their objectives.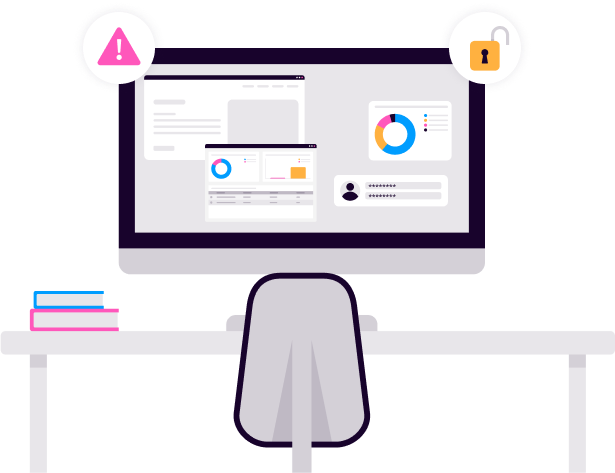 External threats 
External threats are best detected by deviations in user and entity behavioral patterns. If an account is being compromised or an adversary has accessed a server, the chances are that the behavior will differ from standard baseline. 
Compromised Accounts
Compromised accounts are outsiders who have gained access to an insider's account.
Advanced Persistent Threats
An adversary gains unauthorized access to a computer network and remains undetected for an extended period.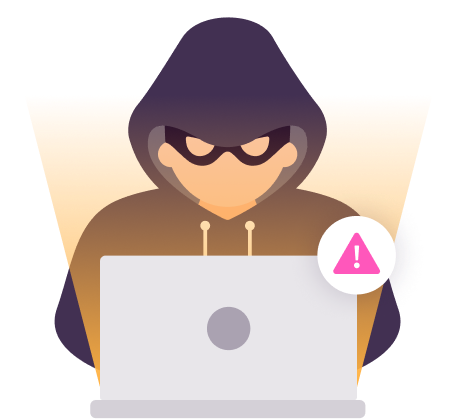 MITRE ATT&CK
All UEBA anomalies are mapped to the MITRE ATT&CK framework, an industry-standard classification of adversarial tactics and techniques based on real-world observations of different cyberattacks.
Logpoint UEBA matches the machine learning algorithms to actual practical scenarios rather than non-cohesive, singular items of interest. Tight integration with MITRE means analysts quickly get an overview of the threat landscape and can easily track the stages of an attack. Combined with risk scoring, the MITRE tags on anomalies help analysts prioritize their investigation and focus on the most critical incidents.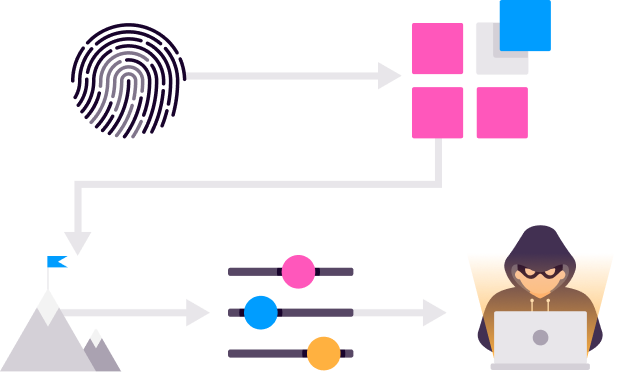 Watch our Webinar
Get insights on frequently asked questions about adding Logpoint UEBA to SIEM.
We discuss the following topics:
The value that UEBA will bring to your current IT setup and infrastructure
The pain points that a machine learning UEBA solution will address in your organization
How easy is it to use and integrate with SIEM
UEBA anomalies mapped to the MITRE ATT&CK framework
Converged SIEM
Looking to consolidate your tech stack? See how UEBA fits with SIEM, SOAR, and more. Converged SIEM helps SOC teams combine data sets from multiple sources. Instead of using multiple standalone products, they now have one single source of truth. It is the only unified platform that delivers SIEM+SOAR, UEBA, EDR capabilities and security monitoring of SAP for both enterprises and MSSPs.
Full data integration for automated TDIR
No integration or maintenance required
Out-of-the-box compliance support
Flexible deployment based on your needs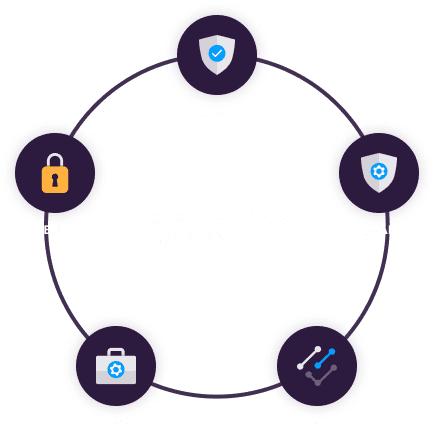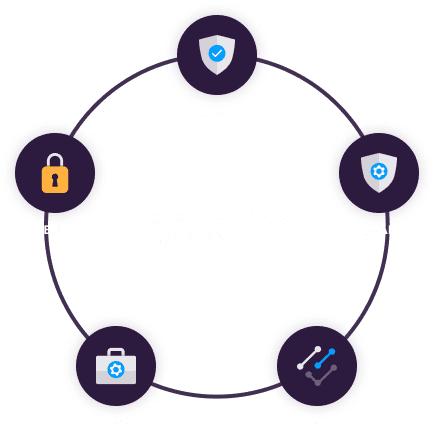 Latest Research, Trends, and Insights