Logpoint's latest release helps analysts integrate their tech stack and combines many capabilities in a single tool to help reduce the number of cybersecurity tools
by Gitte Gade, Product Marketing Manager
With the development of new technology, the number of tools added to the list for security analysts keeps increasing. A study by ESG found that 40% of respondents use between 10 and 25 security tools, and 30% use between 26 and 50 cybersecurity tools. Many of these tools are chosen to solve specific tasks and problems. This strategy for cybersecurity tools can result in a portfolio of tools that don't integrate.
In addition to the number of tools and technologies, there is another crucial issue. A study from SANS determined that "Too many tools that are not integrated" is one of the top three SOC challenges. A large number of tools that don't integrate are challenges that call for a more consolidated and holistic approach to security operations.
Logpoint offers an end-to-end security platform that covers the entire enterprise environment and continues to strengthen that offering with our latest update that includes improvements across the platform. The update gives Logpoint users:
A universal fetcher that helps security analysts to monitor cloud services easily
New UI for Logpoint SOAR that makes modifying playbooks easier and more accessible
A complete redesign of the UEBA UI provides easier navigation
Simplifying digital transformation with a universal fetcher
In the aftermath of the Covid-19 pandemic, many organizations are in some shape or form in a digital transformation to respond to the global crisis to meet customer and employee requirements.
For organizations in such a transformation process, it is essential that SIEM engineers can easily monitor cloud services. With Logpoint 7.1, the SOC team gets a universal fetcher that ensures easy configuration for platforms and avoids spending time requesting separate plugins for different platforms. The update provides a generic interface to fetch data from various data sources to simplify the transformation.
Modifying playbooks are now more accessible and effective
SOAR is a tool created to make your SOC more productive, even with limited resources, but it can be a daunting task to get started on automation and playbooks. To support new and existing users, Logpoint 7.1 includes a new modern UI for editing and managing playbooks, actions, and triggers. This new UI makes it easier for all users to modify existing playbooks and create new ones.
Logpoint 7.1 include a new and modern UI making modifying playbooks more accessible for users.
With this update, we have also updated some generic playbooks to allow for multiple alternative tools for similar actions. This change enables security analysts to easily select a generic action, regardless of their tool.Spot insider threats faster
In 2020 68% of organizations confirmed insider attacks are becoming more frequent, and therefore, SOC teams and threat hunters need tools and platforms that support their work to protect the business.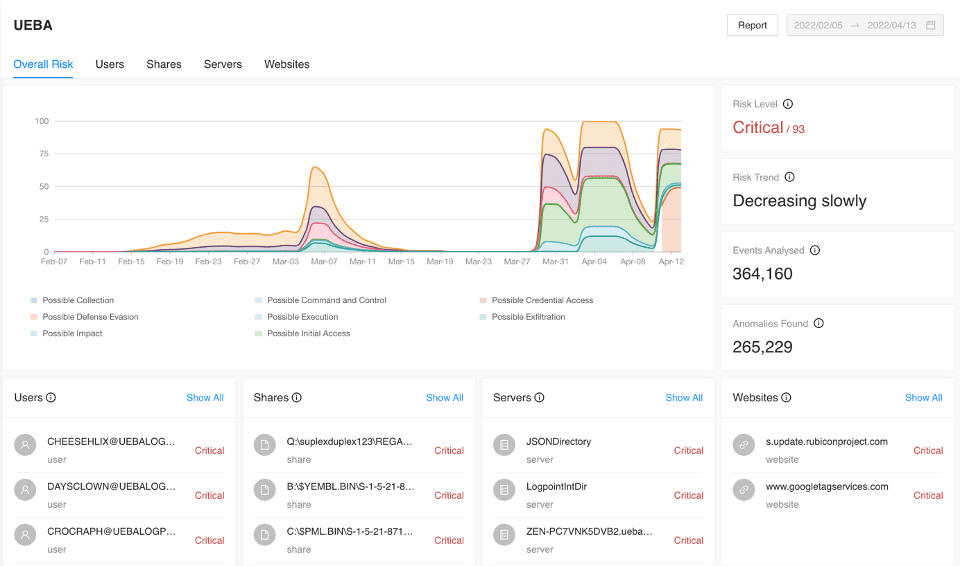 The new UI for UEBA gives users a clear overview of the overall risk
Logpoint 7.1 includes a complete redesign of the UEBA UI, making it easier to navigate and allowing threat hunters to identify the most significant threats that require further investigation.
Download Logpoint 7.1 today!
Visit the Logpoint Help Center to download the latest version of Logpoint and read the release notes.