Corporate philosophy
In today's digital world, riddled with alert fatigue and a constant need for market adjustments –  a solution that simplifies complexity, and brings customers greater contextual awareness is essential.
LogPoint is the solution – that works for anyone, anywhere and at any time.
LogPoint is Unified Simplicity
Customer Centricity
For us, putting customers first means understanding their needs, committing ourselves to creating real value and fostering long-term co-operation. LogPoint was founded to deliver cybersecurity solutions and services that offer the performance, scalability, and flexibility that today's organizations require. We are adept at harnessing new technologies and responding to changing market demands quickly.
Industry Excellence
LogPoint strives to set the industry standard. We thrive at the intersection of domain expertise and profound technological interests to stay ahead of the curve.
Team Spirit
We seek only the best people for the job and challenge them to further develop their skill sets. At LogPoint we respect diversity and share knowledge, resources, and skills. We support one another and go above and beyond to enable mutual success.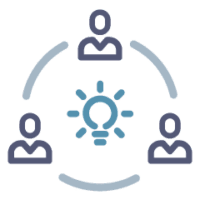 Innovation
True cybersecurity requires constant innovation. We enjoy challenging the status quo by providing smarter and simpler solutions. Through creative simplicity, we constantly create the "Aha" moment delivered by a solution.
Passion
Passion is about doing the right thing when nobody is watching, standing up for what we believe in and endeavoring to triumph in all our activities. We are passionate about our customers, new technology and one another. We prepare and work with passion. We want our projects to be relevant, to add value and we aspire to perfection. We show real interest in our customers and partners, new technology and one another. We care deeply about the community and society.