IT Service Intelligence  
Secure smooth operations and reduce the risks of costly outages
The IT-SI solution helps organizations identify an operations problem quickly – before it impacts their revenue, customers, or internal teams. With end-to-end visibility into the operational capabilities, we help you monitor and proactively safeguard the stability of your systems to ensure smooth operations, eliminate downtime and avoid costly outages.
Trusted by Thousands, Guarding Millions
Full-Stack Monitoring of your Operational Capabilities
Why operate in the dark and waste time searching for issues that impede your operational capabilities, when you can get full visibility with a click of a finger?
Monitor the availability of the application, integration, and technical layer to effectively detect the root cause and quickly respond to issues threatening the stability of your SAP system. With landscape-wide visibility, immediately detect an operational degradation and take action to circumvent downtime and costly outages.
Combat Degradations Successfully with Unified Infrastructure Monitoring
Work smarter, not harder. Through pre-configured KPIs, we help you monitor what matters the most. To increase efficiency, we cluster alerts into larger events and remove unnecessary noise to help shorten your MTTR.
Identify the root causes instigating service degradations and pinpoint areas of impact to make operations run more efficiently.
Act Proactively with an Early Warning System and Trend Analysis
Detect future service degradations in advance based on historical data and trend analysis. Be proactive and circumvent incidents before they even happen with our early-warning system.
Secure your SAP Systems Against Costly Outages with Early Warning Systems
An unexpected outage in an SAP system costs approximately $10,000 a minute.
Being the primary operating system, downtime can lead to production disasters, induce delays, impact the revenue and harm your brand authority and customer trust. Due to the growing complexity of SAP systems the number of outages is rising, and subsequently recovery time objective (RTO) is increasing. 50% of SAP Basis Engineers perceive unpredictable issues in the operating system as their most significant challenge.
System downtime disrupting entire business processes
Due to system overload, critical SAP components suffered downtime. For this manufacturing company, SAP's inability to process data led to disruptions in business operations, fueling a chain reaction of delays throughout the entire production. This led to customer outcry, hurt the brand's reputation, and induced substantial losses in gross sales. Without historical data, predicting such downtime is an impossible task.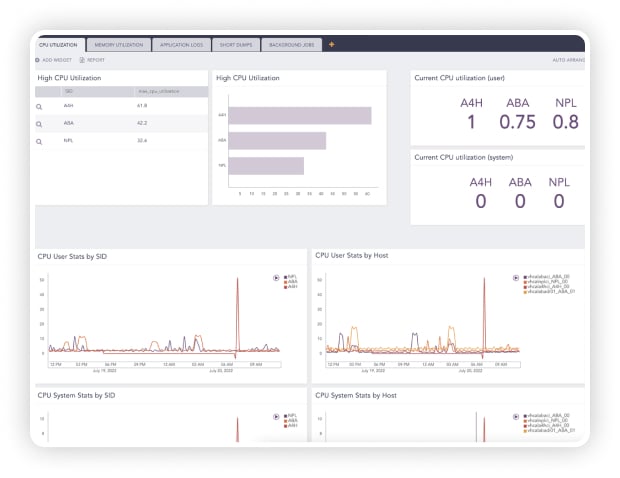 Detect performance issues before they affect your business processes 
With full insight into the CPU usage and availability, run-time errors, background jobs, etc. SAP Basis Engineers can effectively monitor and respond to issues threatening the stability of the SAP system, in near real-time. Historical data analysis and trend graphs help you proactively circumvent future operational degradations and avoid situations of managing issues once the damage is done.
Proactively fix operational issues before they become an outage with the IT-SI solution.