2022 LogPoint Impact Report – Why Customers Love LogPoint
LogPoint was ranked #1 and named a leader in the 2021 Data Quadrant Report for SIEM. Get the 2022 Impact Report to learn why IT and security professionals rated LogPoint as #1 out of 16 vendors.
We are proud to be ranked #1 and be named a gold medalist and champion in the 2021 Data Quadrant Report for SIEM. But why is it that IT and security professionals rate LogPoint way over the average SIEM in their reviews?
InfoTech Impact Report 2021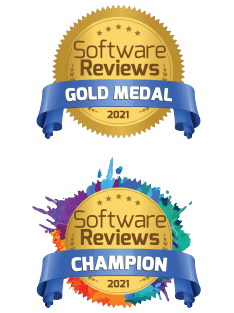 According to peer reviewers, LogPoint delivers an outstanding product backed by exceptional customer service:
They like that LogPoint is easy to install, customize, and operate
They achieve faster time-to-value with LogPoint
LogPoint supports a strong ROI case with a fair cost-to-value
LogPoint provides customer service and support in a respectful and caring way, ultimately saving valuable time
They appreciate that LogPoint is not just a vendor, but a true partner
But don't just take our word for it. Get the Insights-report and see for yourself.
About SoftwareReviews
SoftwareReviews, a division of Info-Tech Research Group, is backed by two decades of IT research and advisory experience. By collecting real data from verified IT and business professionals, the SoftwareReviews methodology produces detailed and authentic insight into the experience of evaluating and purchasing software. To learn more, visit www.softwarereviews.com